Pathway offers three primary cloud-based services; Infrastructure-as-a-Service (IaaS), Desktop-as-a-Service (DaaS), and Disaster Recovery. IaaS cloud Infrastructure through Pathway Communications features unlimited 10 GB ethernet bandwidth, predictable pricing, performance supported by robust server resources, easy-to-use management portal, and top-level protection. DaaS is a virtual desktop which is backed by cloud optimization, allowing you to access the desktop from any device anywhere. DaaS has low bandwidth requirements, easy compatibility to peripheral devices, applications, and software assurance.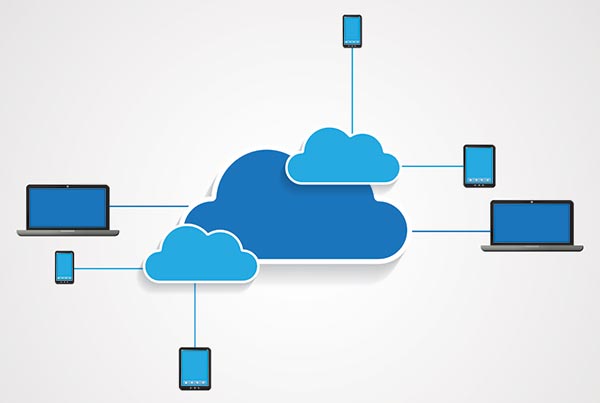 Cloud Solution Platform
What is Pathway's Cloud Solution Platform?
The Pathway Cloud Solution Platform provides comprehensive Cloud Infrastructure and Desktop-as-a-Service. End-customers utilize the Pathway Platform services for Infrastructure (IaaS), and for Desktop-As-A-Service (DaaS) in conjunction with Infrastructure. Integrated hosted solution: Pathway provides an integrated hosted solution, combining Cloud Infrastructure, Desktop-as-a-Service, and Disaster Recovery, with unlimited networking capability.
Utilization
How is Pathway Utilized?
The Pathway Platform is often utilized as a full replacement for an organization's IT infrastructure and desktop utilization. For example, users log into the user-friendly Windows Cloud Desktop from any device, gaining access to all their business applications, files, and folders.
Advantages
What are the Advantages of Pathway Cloud Solution?
There are many advantages of Pathway for the end user organization:
Advantages for End-Customers include:
• Integration of cloud infrastructure, cloud desktop, and disaster recovery • VMware with Citrix integration • Solution Selling Automation • Turn-key provisioning • Unified monthly billing • Streamlined monitoring and support • A robust and reliable cloud provider • Microsoft SPLA integration and compliance • Strong Service Level Agreement • Predictable costs • Strong profit margins • Comprehensive audit and usage reporting
Advantages for End-Users include:
• Comprehensive cloud infrastructure with full disaster recovery • Access to a user-friendly Windows cloud desktop from any device, anywhere • Flexible sizing and scalability to meet business needs • Access to all Microsoft Desktop and Server applications • Bring your own third-party applications • Low and predictable monthly cost • Ability to add or remove users • Ability to network with on-premise or collocated hardware
Services
Pathway Services:
Pathway provides three primary services, providing customers and their administrators with the necessary IT assets for every infrastructure requirement and every use-case.
1. Pathway Infrastructure
Our extensive cloud infrastructure offering, provides the performance and flexibility required for the most demanding environments. Utilize the power of VMware to deploy complex infrastructure or simple cloud servers from within the management portal. Designed for production environments, virtual machines may be tailored to meet clients' needs.
Pathway Infrastructure features include:
• UNLIMITED BANDWIDTH – Get unlimited bandwidth and benefit from Pathway's 10GB ethernet backbone. • LEVEL PRICING – Allocation-based monthly pricing ensures predictable costs. • EXCELLENT PERFORMANCE – Benefit from robust server resources to ensure excellent compute performance. • SIMPLE ADMINISTRATION – Utilize Pathway's management portal to deploy virtual machines and manage server resources and storage. • PROTECTION AND REDUNDANCY – Gain machine-level snapshots and redundant data- center locations by selecting a Storage Policy.
2. Desktop as a Service
Desktop-as-a-Service is an optional service that allows end users direct access to their infrastructure via a secure Windows-based hosted virtual desktop. In addition to providing a robust infrastructure solution, Pathway provides the latest in Citrix technology to deliver the most refined and well performing hosted virtual desktop solution in the industry. Pathway's Desktop Deployment Wizard streamlines deployment, and the Citrix cloud desktop produces a reliable and user-friendly solution for clients.
Pathway Cloud Desktop features include:
• CITRIX CAPABILITY – Users benefit from the capability of Citrix, providing cloud desktop optimization and the best user experience of any delivery protocol available. • ANY DEVICE, ANYWHERE – Users gain access to their Pathway Cloud Desktop utilizing any internet capable device. Using your choice of either a local plugin or HTML5 client via a web browser, the platform supports tablets, smartphones, laptops, and desk- top devices, whether PC or Mac. • LOW BANDWIDTH REQUIREMENTS – Using the optional Citrix enhancement, users consume approximately 25% of the bandwidth of a traditional RDP client, significantly reducing the burden on existing bandwidth and increasing the user experience. • PERIPHERAL DEVICE COMPATIBILITY – Device flow-through allows the virtual desktop to recognize locally installed peripheral device drivers such as those for printers and webcams. Print as you would with your native PC. Networked printers may also be configured at the administrator level. • SOFTWARE ASSURANCE – Pathway makes available every Microsoft desktop and server application. With each Microsoft license, software assurance ensures that users have access to the latest version of each application by providing the ability to upgrade to the latest release. • APPLICATION COMPATIBILITY – Third-party line of business applications are installed within the Pathway environment as they would any traditional client-server environment. Thousands of third-party applications are proven compatible with the platform, including most legacy applications.
3. Disaster Recovery
Select an appropriate disaster recovery solution by selecting a Storage Policy. Three different Storage Policies provide the right combination of backup copy and replication to meet your DR needs. Gain nightly snapshots in the form of offsite backup copy with daily and weekly data retention. Or gain ongoing replication between at least two datacenter locations. Regardless of the Storage Policy chosen, all Pathway infrastructure receives daily snapshots, protecting you and your end-users from unrecoverable errors.
End User Access
End User Access
Users gain access to their Pathway Cloud Desktop utilizing any internet capable device. Using their choice of either a local plugin or HTML5 client via any web browser, the platform supports tablets, smartphones, laptops, and desktop devices, whether PC or Mac.
To access the platform directly using HTML5 web access (no plug-in required), users may navigate to the login gateway. From here, users may enter their login credentials and launch the Cloud Desktop. This is ideal for use with devices that do not allow installation locally, such as Chromebooks or kiosk workstations.
RDP Only Delivery
RDP Only Delivery
Should end-customer choose not to utilize Citrix for desktop delivery, the Microsoft Remote Desktop Proto- col (RDP) provides remote display and input capabilities over network connections for Windows-based applications running on a server. RDP is designed to support different types of network topologies and multiple LAN protocols and is an effective and affordable method of providing Remote Desktop access. Be aware that there are server resources and maintenance required to maintain one's own RDS gateway.